Not sure what option you need?
Colour Option
Choose from our list of
standard colours
. This is for the exterior of the display case. The interior is standard satin white melamine, unless a custom colour is required.
If you need a colour specially matched to your companies colour scheme or a different one than we offer. We would be happy to assist, just select Custom Colour as an option and we can work with you to find the perfect one.

Wallcase LED Lighting
When selecting this option, there is a 4″H valance that is added to the top of the case to store the LED power supply. The valance includes a wood melamine top instead of standard glass top. This makes for a clean finish and professional look. We do have a few different LED options for our wallcases. The standard is one LED fixture at the top, but contact us for special requests. Our LED options includes one single light rail at the top, or LED pot lights in the top of the case, and lastly optional shelf lights where the rails are attached to each shelf for the most amount of light output.
The LED lighting options comes complete with LED fixture, LED power supply, and a standard 8 foot 120V cord.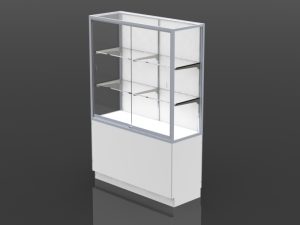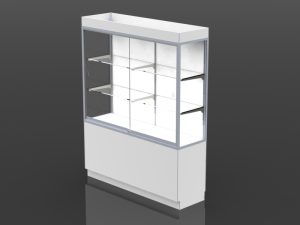 Showcase Rear Doors
Standard MDF doors
– This option is our most cost effective option as it is our showcase aluminum door framework with a MDF wood core laminated with white laminate on the inside and the optional exterior colour laminated to the outside of the door.
Mirror Doors – Optional mirror doors are a clear float mirror core that is laminated on the outside with the desired colour choice. This adds strength to the mirror and ensures that if damage occurs the mirror will stay together as one piece.
Glass Doors – We also offer glass doors that can be either framed or frameless. Please contact us if you are looking for frameless doors.
Showcase Display Ends
Standard Glass Ends
– This option includes 6mm tempered glass ends for the display sides of the cabinet.
Mirror Ends – Our mirror ends include a 5mm thick clear float mirror core with the chosen exterior colour laminated to the outside. This option is recommended when there are multiple showcases being set up in a row. Mirror ends also help direct more light onto the product and make a very bright looking display.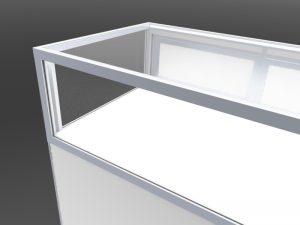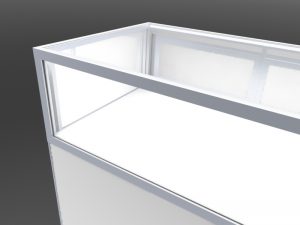 Showcase Rear Storage
Standard Open Storage
– This is our standard feature on our 1/3, 1/2, and 2/3 Vision showcases. This is an open back style showcase that has adjustable shelves for storage. Full Vision showcases have no rear storage.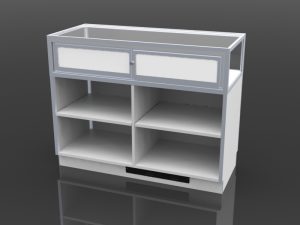 Hinged Doors – For retailers looking for a lockable storage feature. We offer hinged doors that are mounted on pocket style hinges that are lockable. This option still includes the adjustable shelf, but are setback to allow for the locking doors.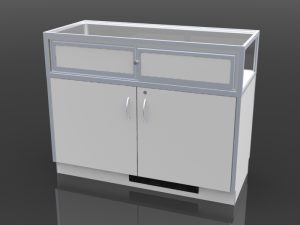 Rear Drawers – This option is for customers looking for drawer space for storage. Our drawers are constructed out of 12mm thick baltic birch plywood with a white melamine bottom. We use quality full extension drawer slides with a modern handle and secure locks.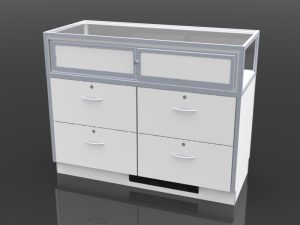 Showcase Glass Type
Standard Clear Tempered Glass
 – As our standard glass option, we offer 6mm clear tempered glass. Tempered glass is extremely durable, it can withstand very hard hits without breaking, unlike normal float glass.This is a pivotal difference between our products and the imported variety. Our glass is thicker and stronger than most competitors. We do this because we insist on providing the best showcases on the market, staying true with our choice of quality glass.
Laminated Safety Glass – For retailers looking for the most secure option, although tempered is VERY strong. Laminated glass adds the next step of security. Laminated glass is similar to your car's windshield. It is made of two thinner pieces of glass, with a plastic film in between. This means, when the glass is broken the panel doesn't just shatter. It stays intact with no loose chards.